March is here and I am so over winter. At least I picked up a few sale items to make me pretend there isn't snow on the ground; again. This is what I call Athleta Sale Items for a "It's still winter" outfit.
Confession, I actually took this photo during the PolarVortex and not yesterday during the fun snow that arrived in Southwest Ohio. During this entire photo shoot, there was a service man parked enjoying his lunch. Probably thinking I'm weird to be out here with a tripod in the cold. #BloggerLife All I could do is laugh about the situation and hurry up (after all it was cold).
If you're new around here, you might not know that it pains me to pay full price for clothes. For the most part, the stores I shop eventually everything goes on sale and/or gets price dropped to make room for new inventory. Seeing that it's March and we still have snow on the ground, they can go ahead and bring out the bikinis and shorts because I'm still buying pants and hats ya'll. I don't always wait until it's on clearance but you betcha I'll hold out for a sale.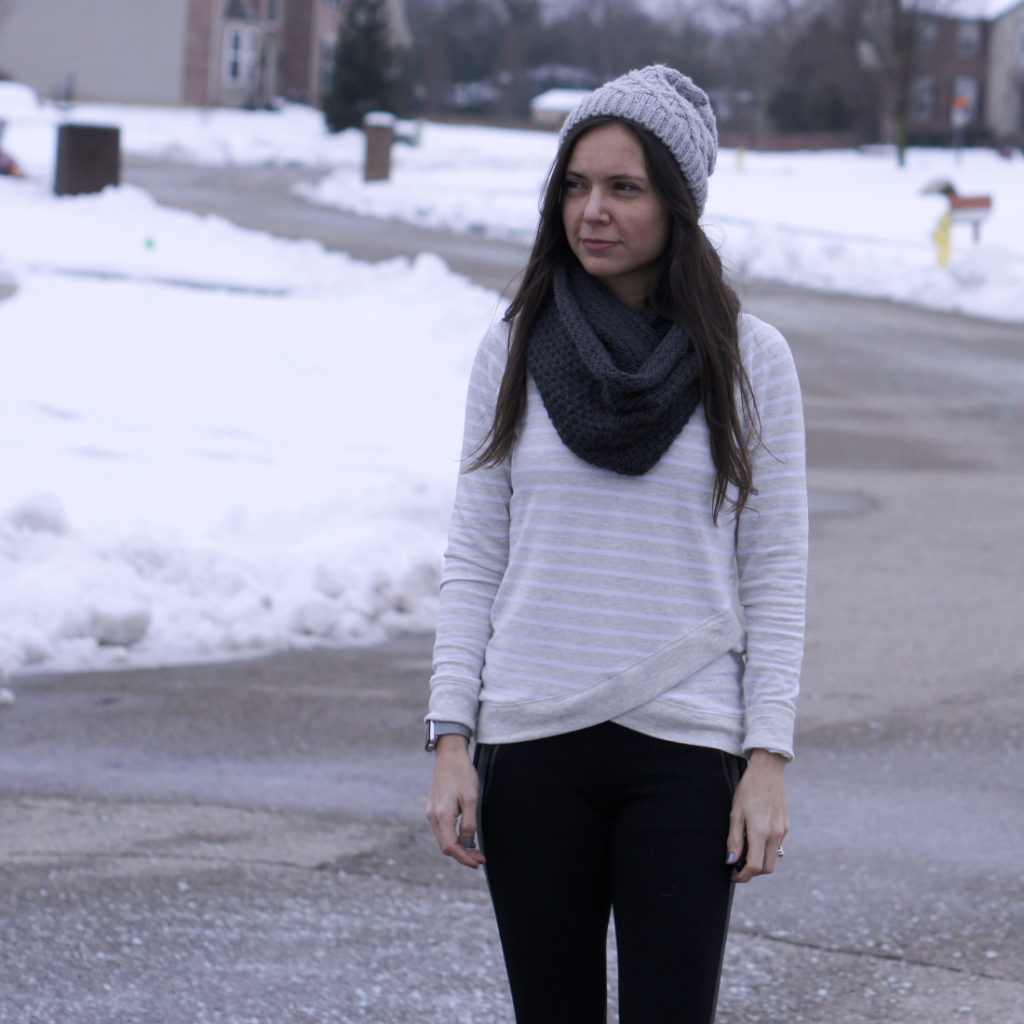 Guys, I love Athleta but they never have sales. I'm not sure I've ever seen a sale like "all tops 40% off" or "save 20% on active shorts this weekend". So for me, I shop here strictly under their sale section. Using some GapRewards dollars I snagged these two cute pieces shown in my outfit. The pants are marked under $50 (originally $98) and the top is under $30 (originally $69). They only have XL in the stripe option I'm wearing but have a few other colors at this price point too. With my GapRewards dollars I paid just $8 for this outfit! I've linked all the items in the affiliated product widget below:
I am a sucker for any fun hem detail so naturally I love the criss cross hem of this sweatshirt. I'm also loving the BootCamp hoodies they have too, with the criss cross hem in the back. So cute! The faux leather and zipper detail on the pants is so good. These pants fit well and feel well. They make a great from yoga to brunch with the girls pant!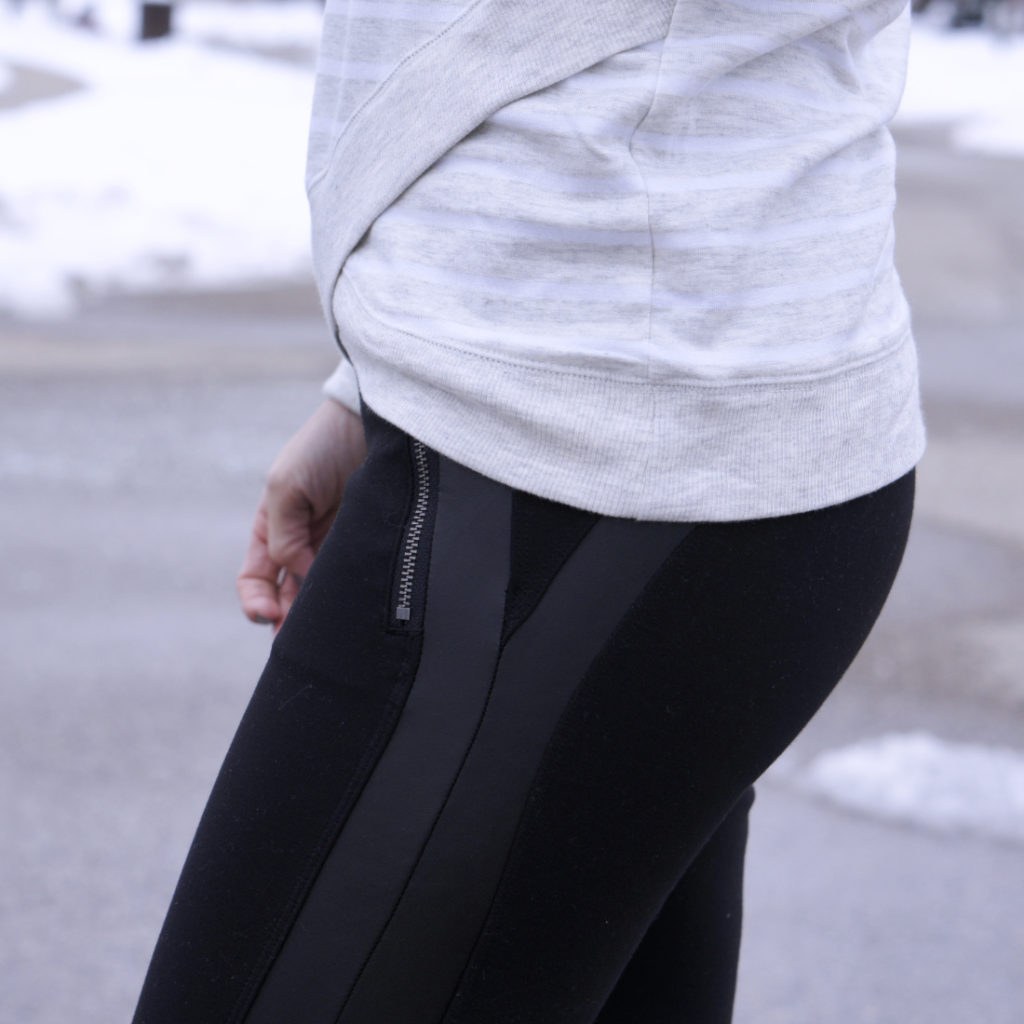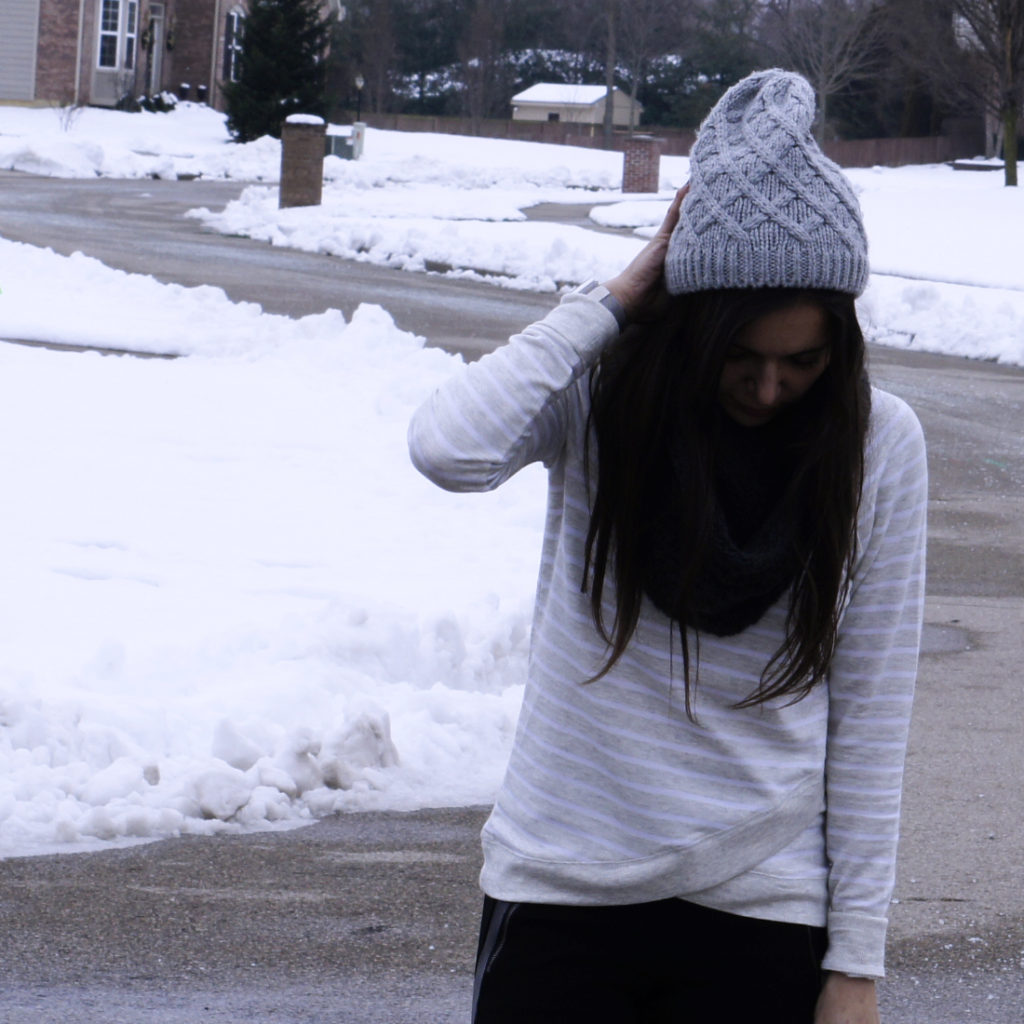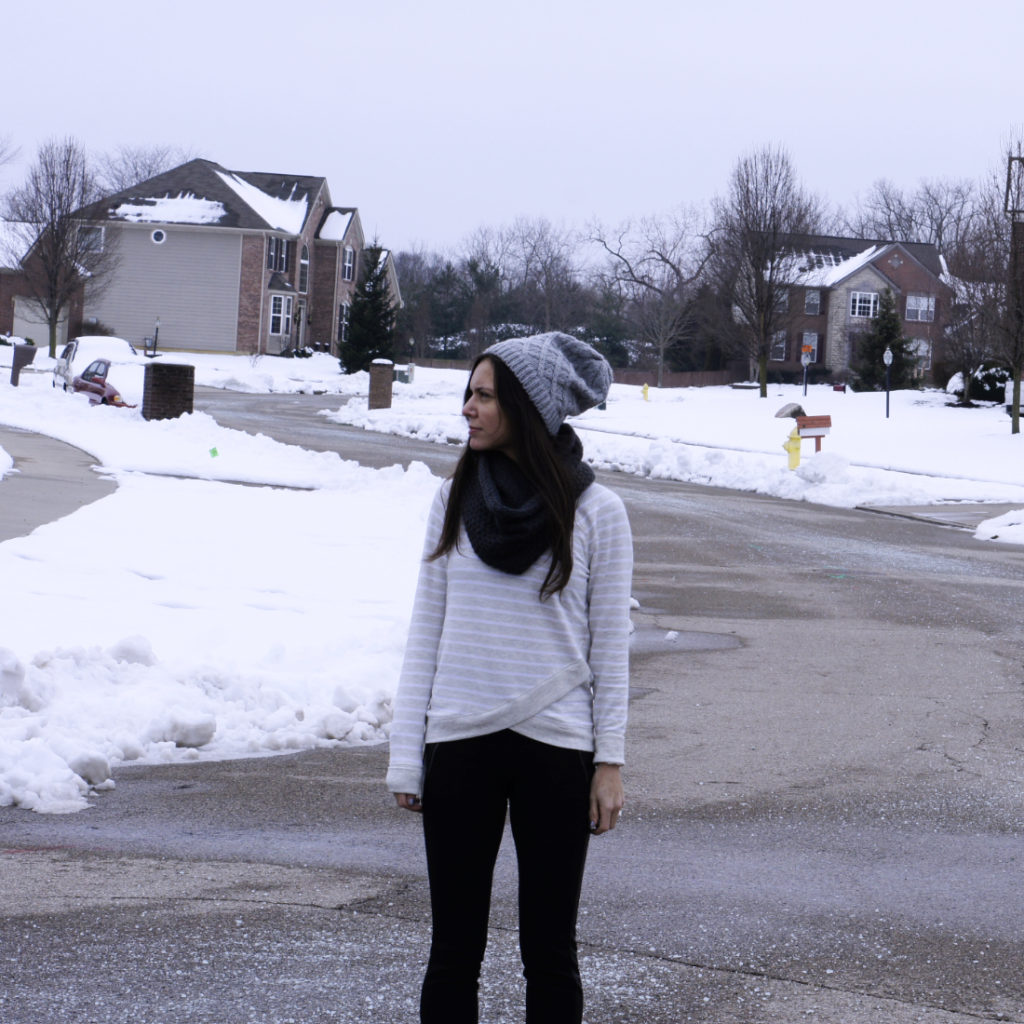 In other news…
I've decided to scale back on how often I'll posting new content on the blog. I have a lot of other tasks I'm working on for my bigger picture goals. I am studying to get my Group Fitness Certification. (and considering adding a quick 3 week certification on portion control nutrition that starts THIS WEEK). I have some really fun and major events happening in April that will need my attention. And I am working hard at launching a secret project that I have been dreaming about for a year.
In order to keep myself a bit sane I am only going to do about 2-3 posts a week. Fitness is my back bone, so I will be posting a new workout or fitness tips once a week. For the other 1-2 posts, they will be a recent #ootd or a yummy recipe. I am not going radio silent this time friends!
Just because the posts are going to go down a bit here, doesn't mean I'm going to be quiet. I plan to get more active on my Instagram account for a more real-time update. If you don't follow me on Instagram yet, why not? Get over there and follow me! Let's be friends!
For this month look for the March Core Challenge to go live this week. A few more posts I'll be sharing is yummy healthier cookie recipe and a little Detox flow for your post- St Pat's shenanigans.
All the good things friends!

---