The Ultimate Sourdough Pancake and Waffle Recipe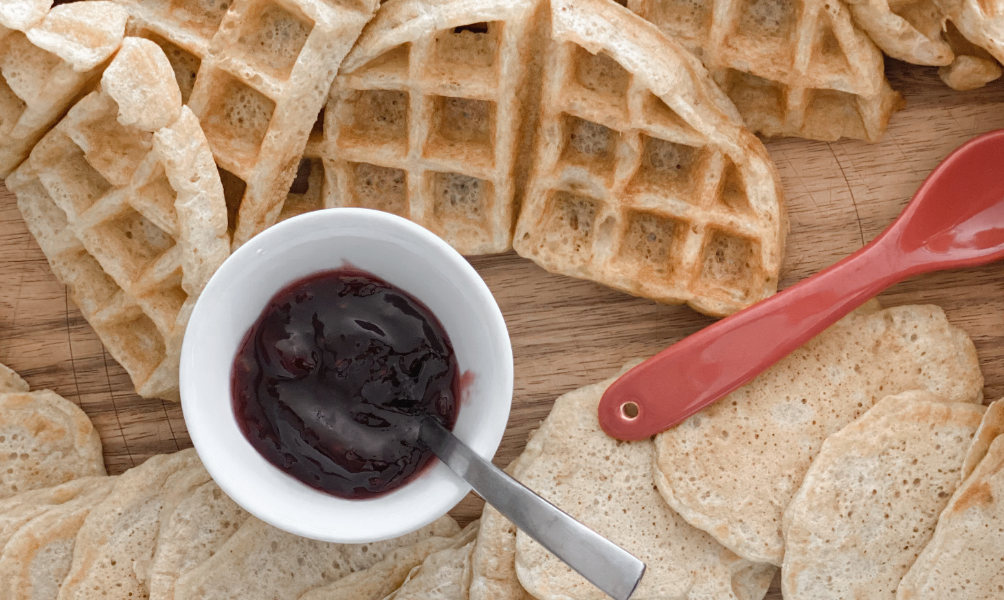 We've mastered our family waffle batter and you're gonna WANT to make this! They are the ULTIMATE sourdough pancake and waffle recipe.
Attention please, this is a VERY exciting post! This is the FIRST recipe post by my husband, Adam. I am so very thrilled at the start of this collaboration! He is always showing beautiful photos like these on Instagram. It's about time we have some of his recipes up here, don't you think?
We wanted to break in the collaboration with one of our families favorite recipes. Sourdough pancake and waffle recipe. Our kids can never agree on pancakes or waffles and thankfully this recipe is for both!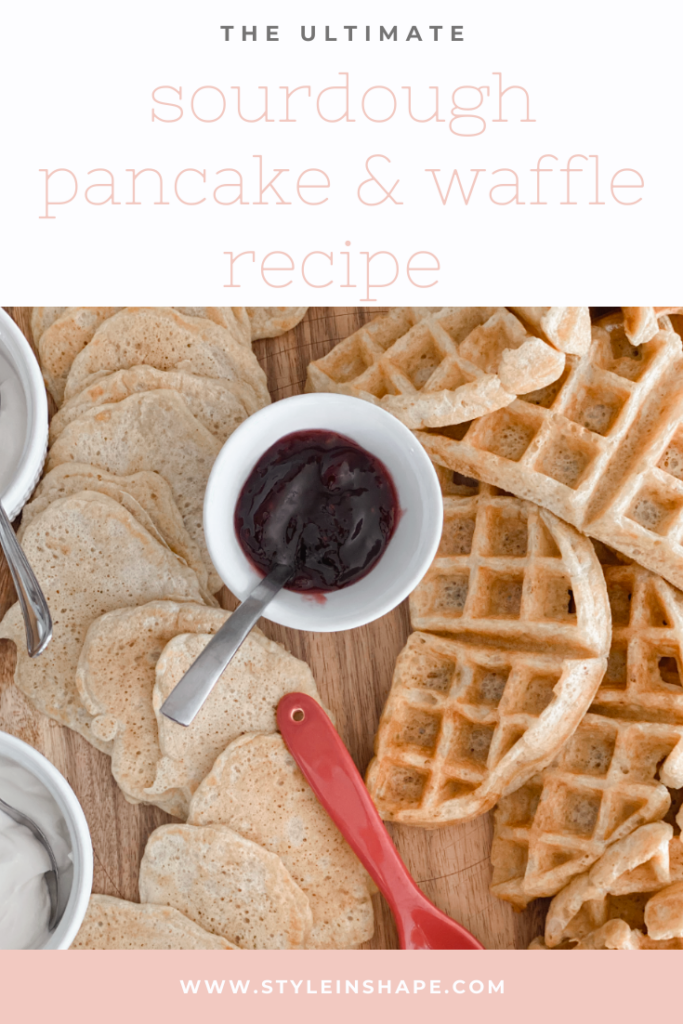 These are great to freeze as well! We often make a batch on the weekends. We'll wrap the leftovers in parchment and toss them into a bag for the freezer. They defrost in a few minutes. I take them from freezer to microwave for 30 seconds and then pop them in the toaster. Super easy way to meal prep breakfast for the week!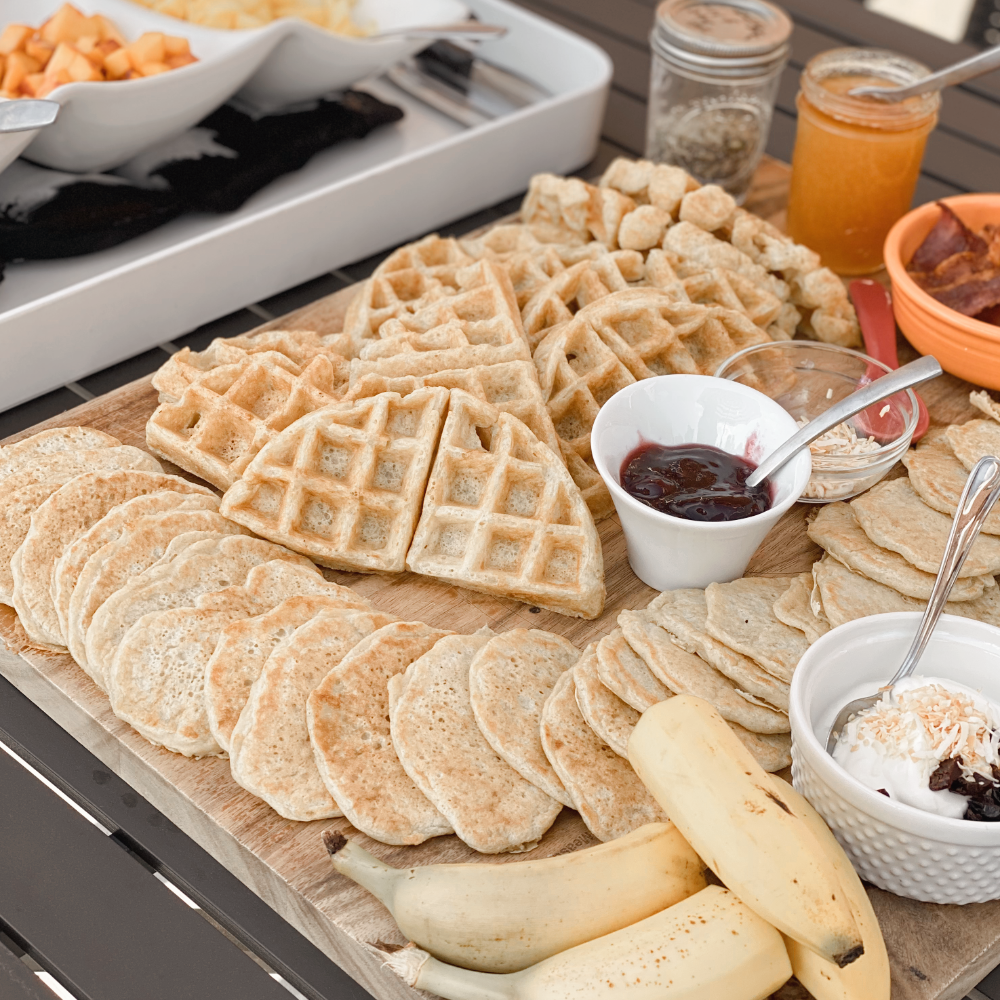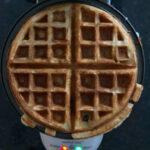 Sourdough Pancakes and Waffles
A light, tangy batter that works perfectly to make either breakfast favorite (because obviously the kids can't ever agree on which one to make)!
Total Time
10
hours
30
minutes
Ingredients
Overnight Sponge
250

g

Discard sourdough starter (~1 cup)

225

g

Almond milk (~1 cup)

120

g

All purpose flour (~1 cup)

13

g

Coconut sugar (~scant tablespoon)
Remaining Ingredients
1

ea

Egg

can make vegan-friendly by substituting a flax seed or chia seed 'egg'

1/4

cup

Melted butter

while I haven't tried this yet, in principal could substitute canola or safflower oil or possibly apple sauce to make vegan-friendly

1/2

tsp

Vanilla extract

1

tsp

Baking soda

1/2

tsp

Kosher salt
Instructions
The Night Before
1. Whisk the ingredients for the overnight sponge together in a large bowl, cover (preferably with anything environmentally friendly and not plastic wrap), and let sit on the counter at room temperature at least 8 but no more than 12 hours*.
The Next Morning
2. Melt butter in microwave-safe bowl.

3. Whisk together egg, kosher salt, and vanilla extract in a small bowl.

4. Preheat waffle iron (**see notes).

5. Sprinkle baking soda on top of overnight sponge.

6. Add butter and egg mixture to overnight sponge and whisk vigorously to combine and aerate.

7. Cook waffles and serve immediately (topped with syrup, nutella, peanut butter & jelly, etc.) or place on a wire rack on a cookie sheet in a warm oven (~155 F).
Recipe Notes
*Don't sweat it if you forget to make the sponge the night before! You can still mix the sponge as directed and then place into a cold oven with the light on. The heat will help jumpstart the fermentation process. It won't be as delicious and tangy as an overnight ferment, but a few hours in the oven with the light on will work enough magic.
**If you wan't good sourdough waffles, you need to invest in a good waffle maker. It needs to be able to maintain high heat even in the presence of massive amounts of evaporation from these (or any) waffles. We prefer the VillaWare model 2002 on heat setting 4.5. 
***Freeze extra waffles in a sealed container between squares of parchment paper. To reheat, wrap frozen waffle in parchment paper and microwave for 30 seconds. If you prefer a crispier waffle, microwave 20 seconds and then lightly brown in toaster