Happy first day of Fall friends!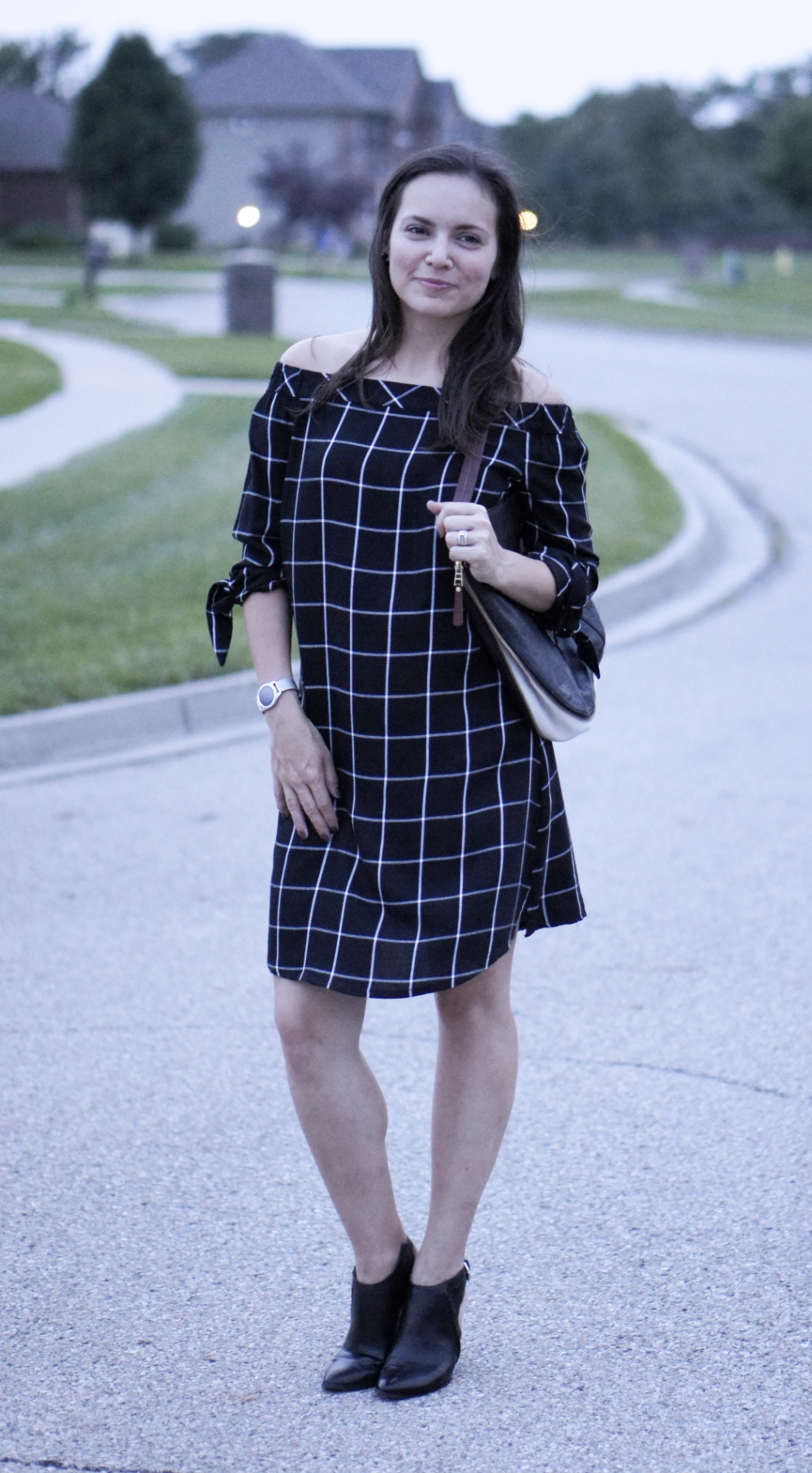 I spotted this shift dress on the clearance rack at Kohl's and had to grab it! The material is so soft, it is almost flannel like. It has cute tie detail on the sleeves too. This chambray shift dress is the exact dress and unfortunately the windowpane print is out of stock. Possibly available on the clearance rack in the junior section of your local store. I saw today that Loft has a windowpane chocker dress that is soo cute. Look at those belle sleeves! Which belle sleeves are a MAJOR trend this season!
I paired this dress with two items from my closet. Some Apt 9 sling back booties scored also on mega clearance last season at Kohl's. I tossed on a favorite Fossil bag to pull the look together. I love this bag. The white part can be zipped up if you do not need as much room or if you are not feeling rocking bright white on your handbag. I picked this up gosh, two years ago at TJ Maxx. I located one Fossil Gwen Cross body for sale if you are interested. I also linked up in the widget similar Fossil bags available currently.
It has been hot enough in Dayton that I am glad I picked up this dress and could get use of it before the weather turns cooler. This dress would look so great with a pair of tall boots with a big chunky knit scarf for warmer look once it is a bit colder.
Hope you all have a wonderful weekend! One last item I wanted to share! Style In Shape made a list of "Petite Creators You Should Follow"- make sure to pop over to Yna's blog for the full read, especially if you have the #shortgirlproblems like myself!
Dress (similar) | Shoes (similiar, less expensive) | Bag (similar)