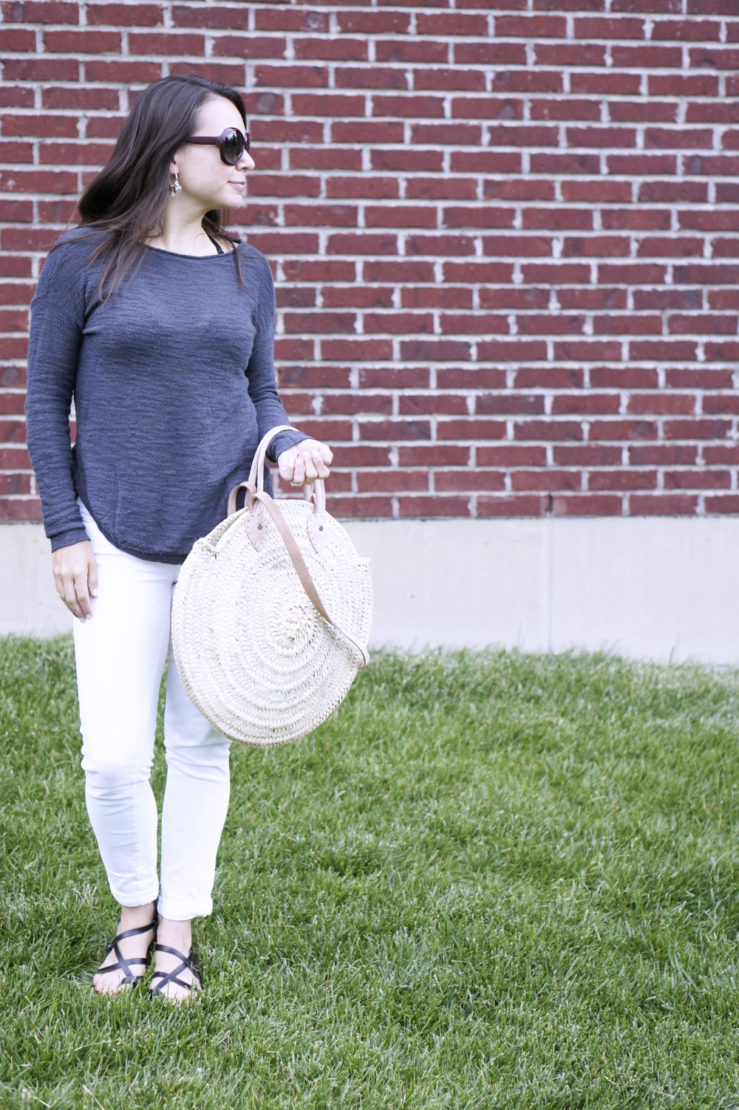 Hi babes! How has everyone's week been? Little miss has been sick (welcome to daycare!) so we've been pretty chill keeping her comfy. I finally bought an oil diffuser so I could get eucalyptus in the air to help with her congestion. And now, I'm obsessed! I've also been diffusing lavender at night and I don't know I can sleep without it now. If you oil diffuse, I'd love to hear some oil combination suggestions!
Last night I was thinking about this blog. I'm still trying to figure out the best way to share my outfit details… If it's better to list just a link, where I bought it from plus link, or list how much I paid or what. One thought that kept coming back to me was how I created this space as a place to empower the everyday female. Don't get me wrong, if you can drop $80 on trendy summer sandals then get it girl. But if you're like me, maybe you see that $80 price tag and think "man, I can get almost a whole outfit for that price". This thought has brought me to what I hope to be a blog series called "Fashion Finds" where I'll share some tips on how to get that look you love for less.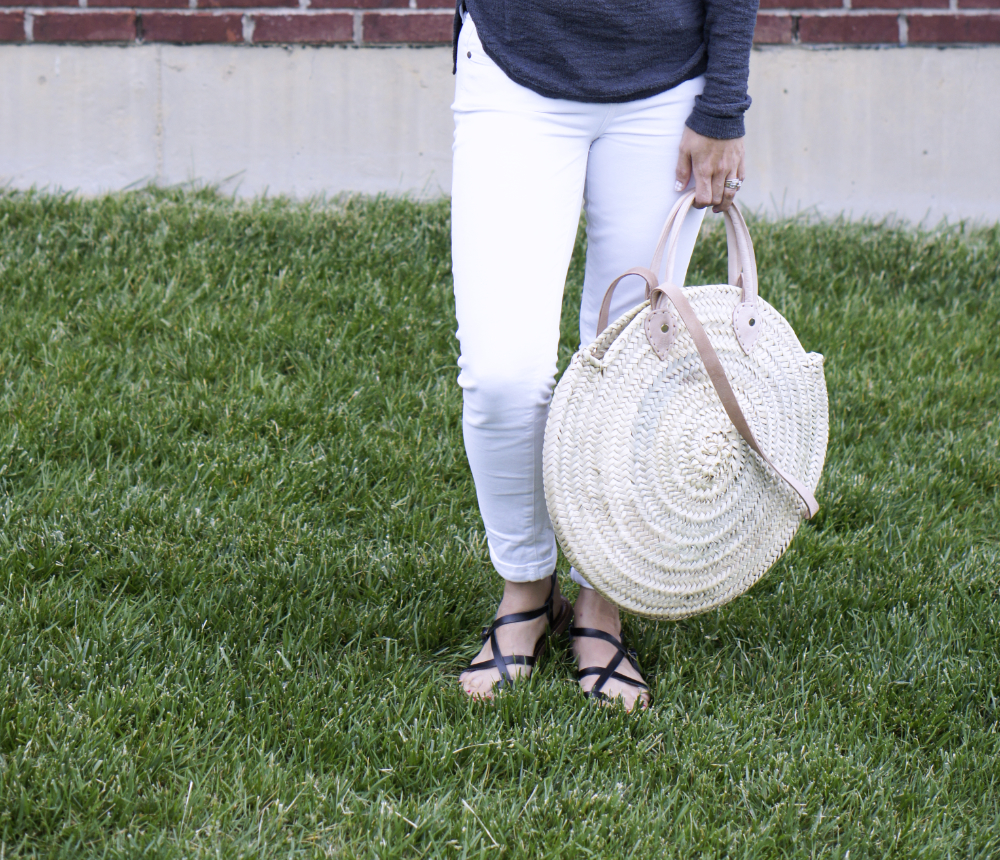 To kick the series off, I'm going to talk about this bag that I obsessed about for about a month. A few fashion/style bloggers I follow on Instagram have this bag. I love that it's a circle with leather handles- it screams summer to me! However, being a Mom of two young kids I didn't think spending over $200 on a light colored woven bag would be a smart financial move. To the internet I went searching for a similar style bag. This draw string straw bag is cute and so is this clutch but I really wanted a round bag. Just when I was about to give up I stumbled upon French Baskets.
French Baskets makes and sells straw bags & baskets. They are hand made by women in Morocco- like hand weaved, hand sewn leather handles, and hand adorned sequins and embroidery. Also did I mention their products are made out of eco-friendly materials? With over 10 years in the business, the owners (Geraldine & Karine) know how to make a quality product. The best part? The products are totally affordable! Like I'm talking well under $100 a basket/bag.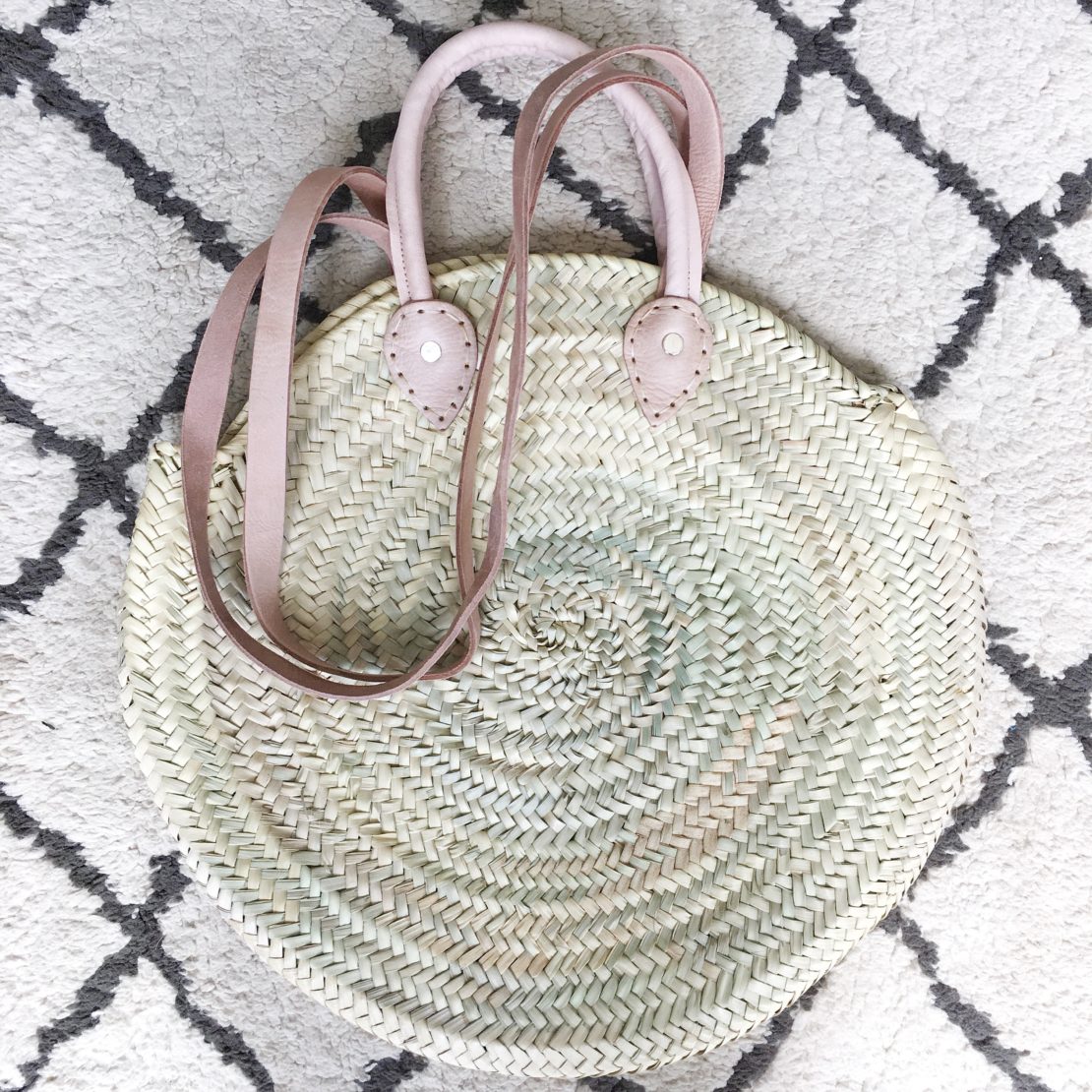 I opted for the Round Wicker Basket with Double Leather Handle; with shipping to the United States my cost was less than $60. It took a little over a week for the bag to arrive at my house and I may or may not have jumped up and down when the DHL delivery man pulled up.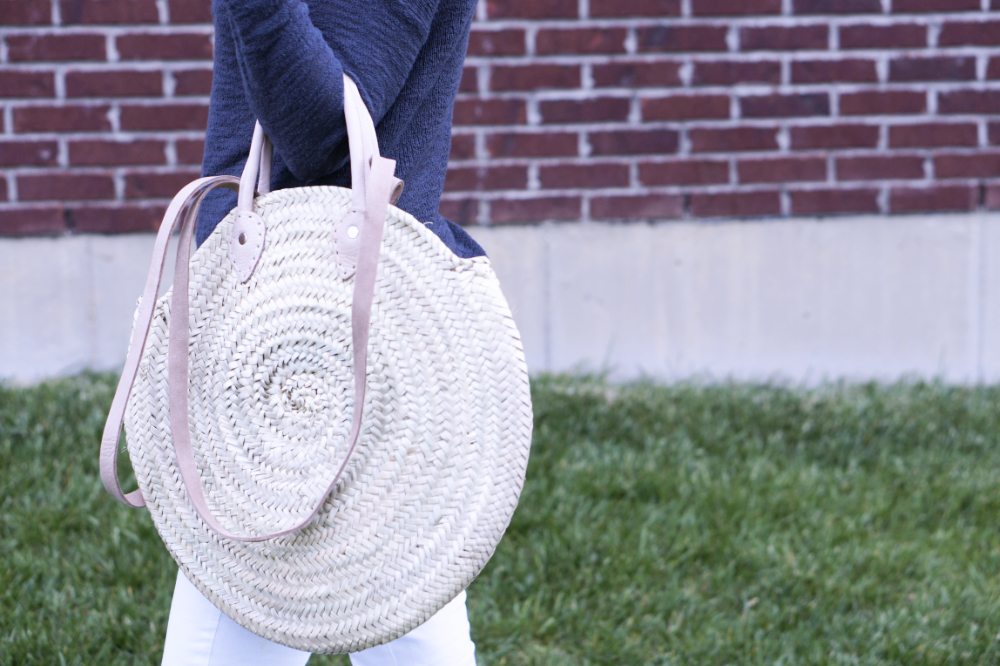 While this bag is not practical for a long day out with an infant and preschooler; I've had no issues stuffing a few baby necessity items and snacks for big brother for dinner out or a quick errand. I'm very impressed with the durability and structure. The leather handles and straps are so soft! I will say it had a very earthy smell after being unboxed. It is real leather and palm leaves after all! Smell has since dissipated in case you are wondering.
If you're loving the summer straw bags, or even want a cute well-made basket to store some throw blankets or toys, I highly recommend French Baskets. They have items for purchase on their website as well as their Etsy shop; they even do wholesale! I love my purchase and totally think you will too!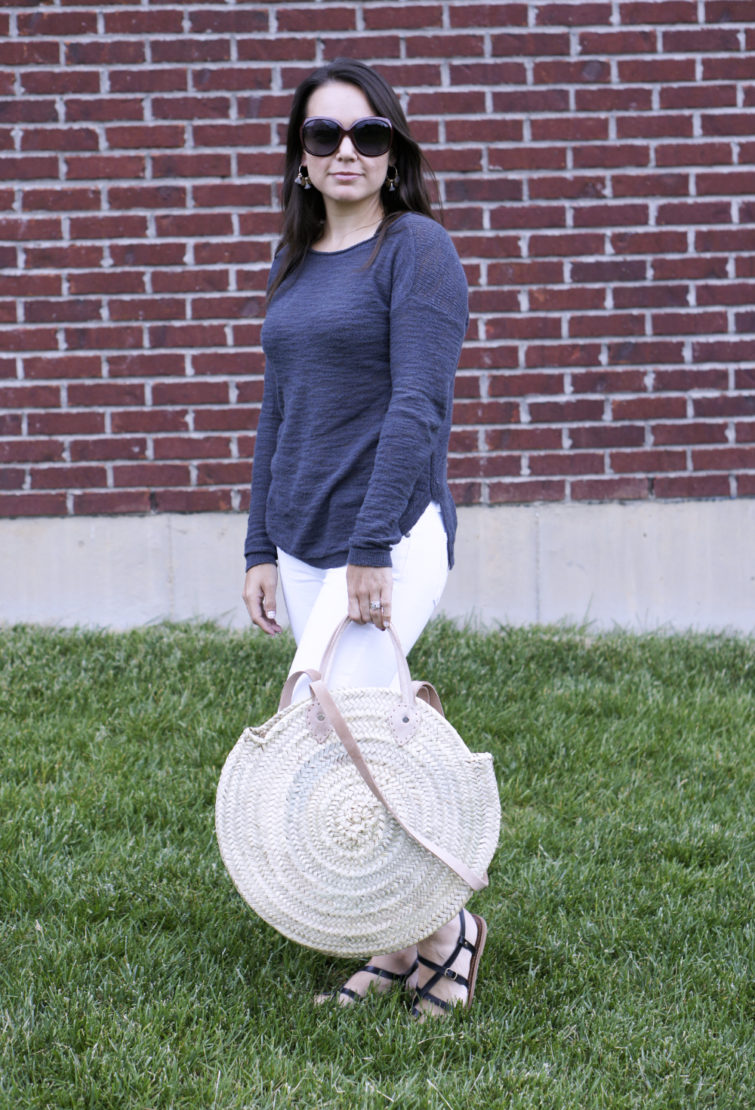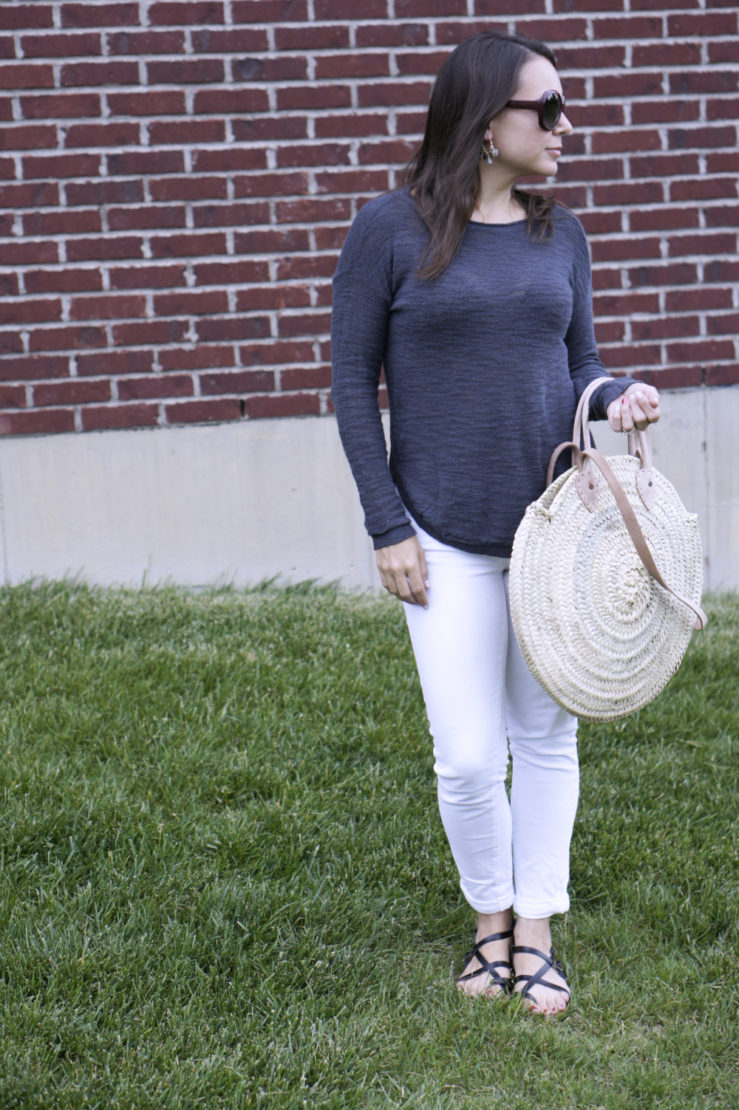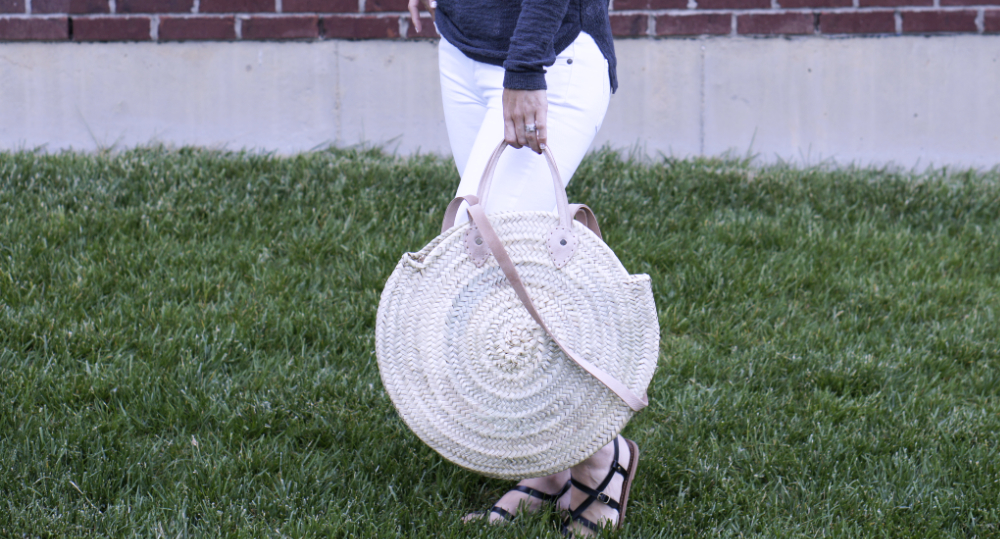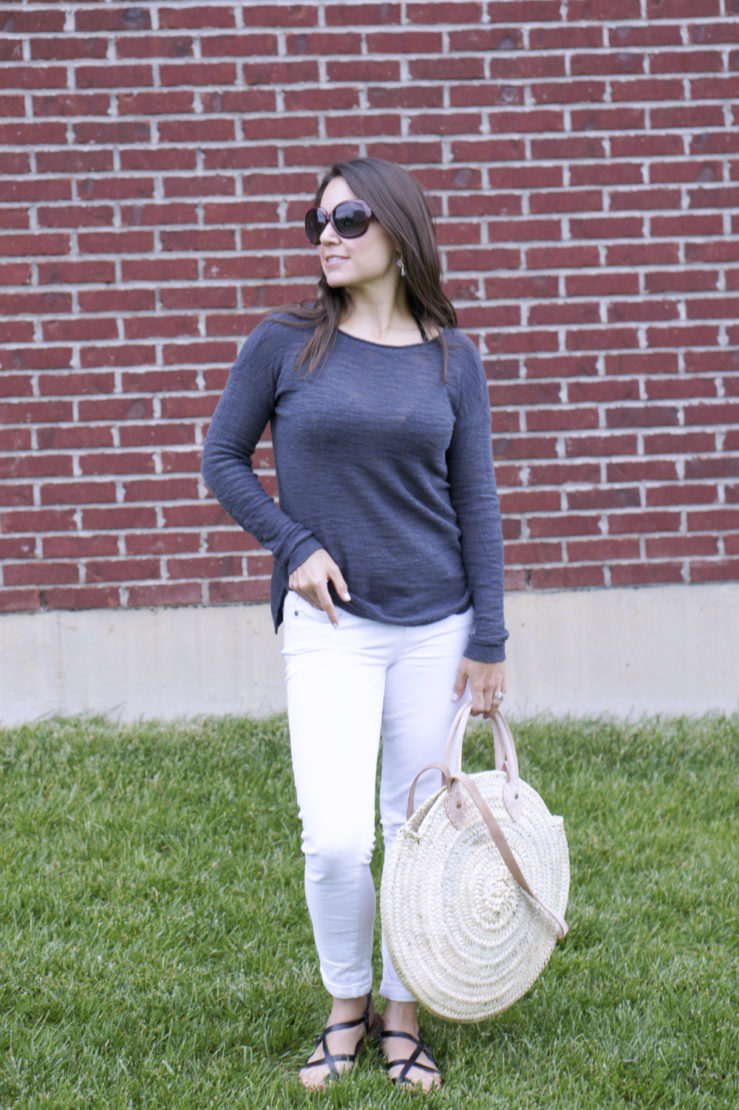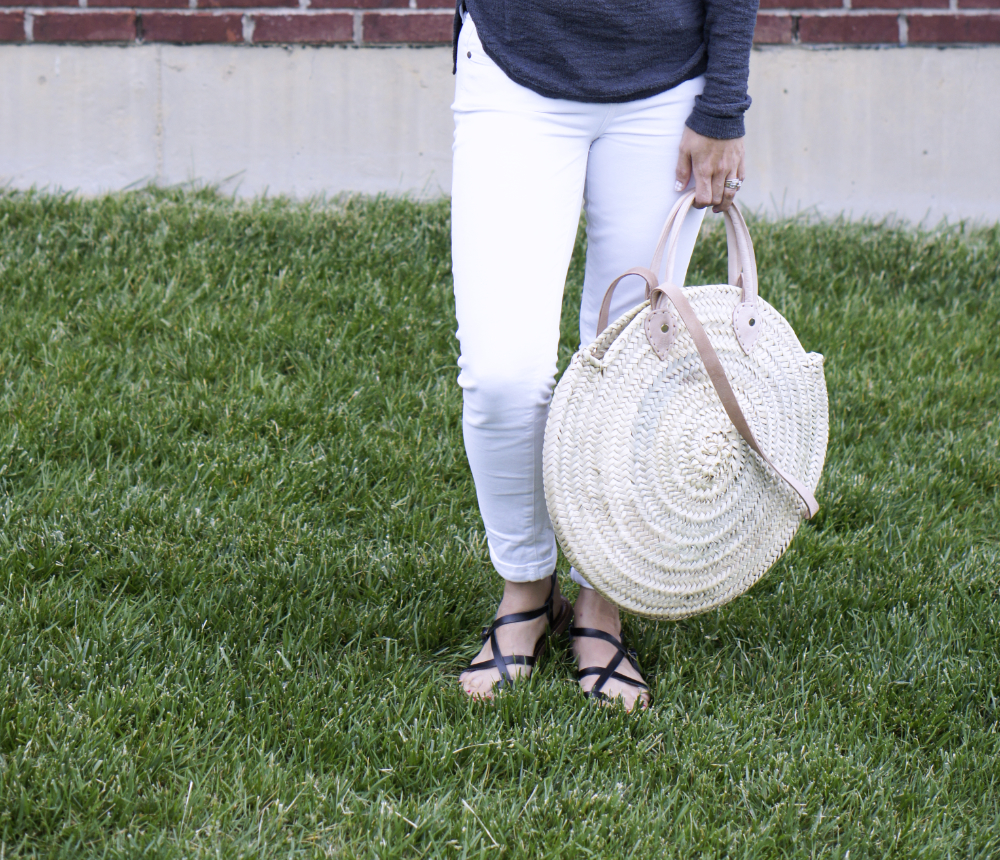 Outfit details: Bag. Jeans. Sweater (Loft, last season- similar, similar). Sandals (Target last season- similar). Sunnies (gift- similar). Earrings (those are sold out, but these are cute too!)
*This post is not sponsored or endorsed. Just my authentic opinion & review on a really awesome product!