I'm not a hoarder of much of anything besides crafting and wardrobe pieces. I'm not kidding when I say I still have the skirt I wore to my high school graduation! I don't wear it too often because I'm not really a skirt girl. It's a basic cream colored modest mini skirt from Express that is such a wardrobe staple that I can't part with it.  Then there are other items that aren't such a basic piece that I have kept. If I'm being really honest with you- unless a piece gets ruined, doesn't fit or just waaay out of style I keep it. Sometimes trends come full circle and a piece becomes a little gem find.
Like this dress.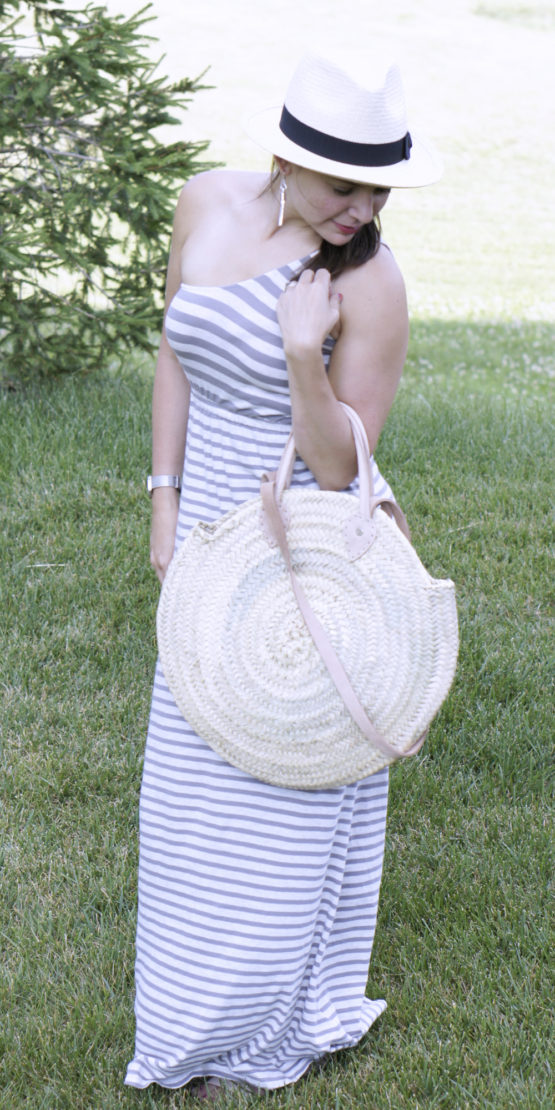 Purchased in 2011 from Forever 21. I bought it for a trip to Beijing and loved the one shoulder aspect. One shoulder tops weren't really in then making it a really unique find. But now, as you know, it's the year of the shoulder show and this dress is right on trend.
I paired it with a cute panama straw hat, metal fringe earrings, nude slides and my beloved straw tote. It was the perfect summer outfit for a little Sunday Funday with the fam.
Since this dress is six years, it's obviously no longer available for sale. This stripped ruffle one-shoulder maxi is a great alternative, and if you want to splurge this off the shoulder version is super adorable. I also like this one shoulder version as well!