If your post holiday sweet detox is begging for just one more cookie then whip up a pan of my chocolate chip almond oatmeal bake. Just enough chocolate to satisfy your sweet tooth but healthy enough to feel guilt-free! Keep reading to snag the recipe!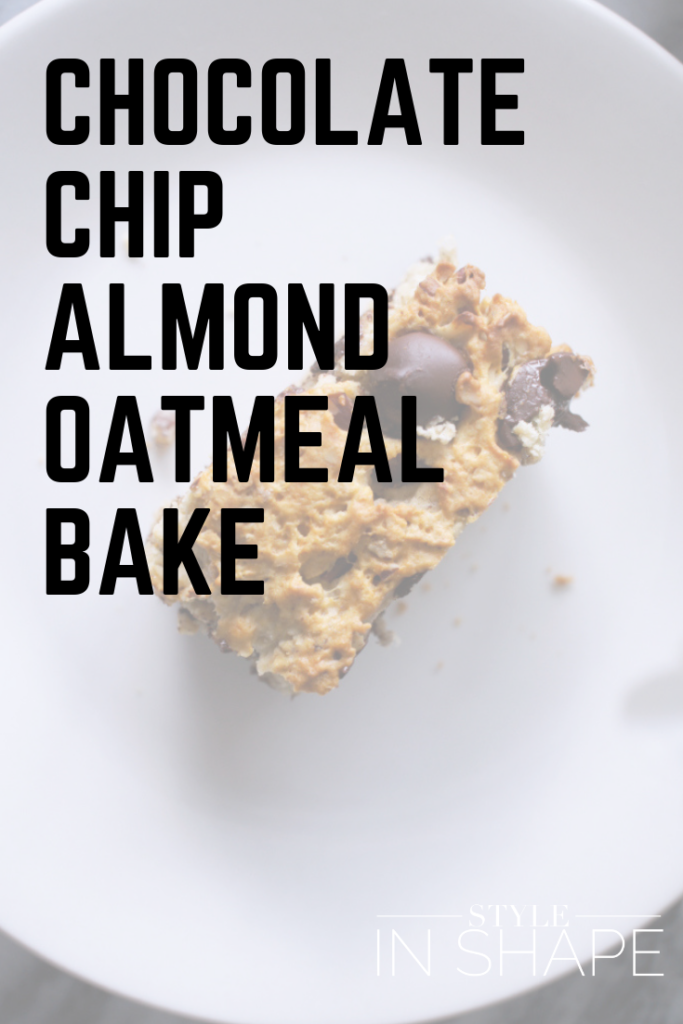 Cookies are my krypthnte for my sweet tooth. (Ice cream, dark chocolate, and peanut butter round out my sugary weaknesses) As much as I try, I go just a little out of control indulging in holiday cookies. Between baking our holiday traditions, attending an annual holiday cookie party and these short bread wrapped Hershey kiss cookies my MIL makes- I completely abandon all caution and eat cookies by the half dozen. #ImtheRealCookieMonster
The good new: before the first of the new year I begin to want a sugar detox. Or really it could be because the cookies are just stale? At any rate, I'm able to step away from the cookies without harming anyone after indulging all month long. So it's a win for control at this point.
However, the force is strong and my sweet tooth wants some more cookie. My January health goals are strong too- so a girl's gotta do what she's gotta do. Compromise and make something that resembles a cookie but really is a healthy baked breakfast instead. Hello, chocolate chip almond oatmeal bake.
It's soft and chewy. Just the right amount of chocolate. Sugar free with clean ingredients. And super easy to make!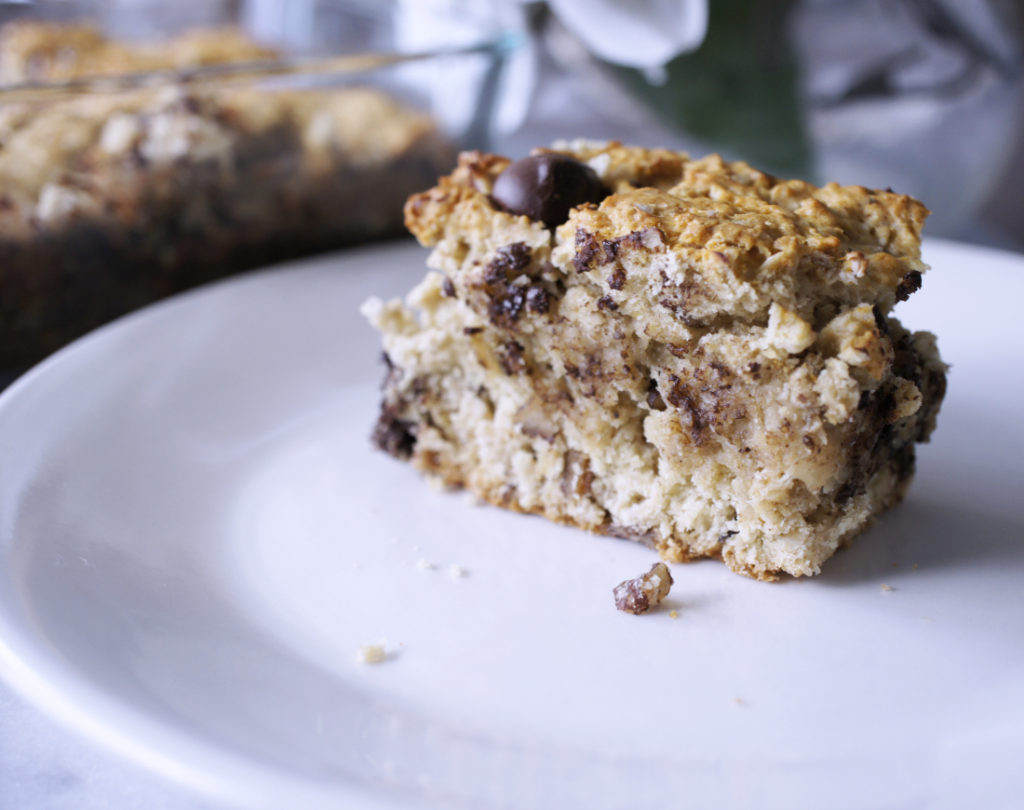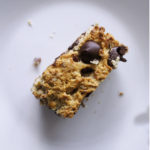 Chocolate Chip Almond Oatmeal Bake
Ingredients
1 1/2

cup

wheat flour

1

cup

rolled oats

1/2

cup

super finely chopped almonds

2

tbsp

ground flax seed meal

1

tbsp

baking powder

1/2

tsp

baking soda

1/2

tsp

sea salt

1/4

tsp

cinnamon

1/3

cup

local honey

1/4

cup

coconut oil

melted

1

egg

1

tsp

pure vanilla extract

1/2

cup

unsweetened almond milk

1/2

cup

dark chocolate chips

coconut oil spray
Instructions
Combine all dry ingredients in a bowl. (besides chocolate chips)

In a separate bowl mix all wet ingredients

Add dry mixture into bowl of wet ingredients

Spray 9×9 glass baking dish with coconut oil

Pour batter evenly into baking dish

Bake for 18-20 minutes; once center of toothpick is clean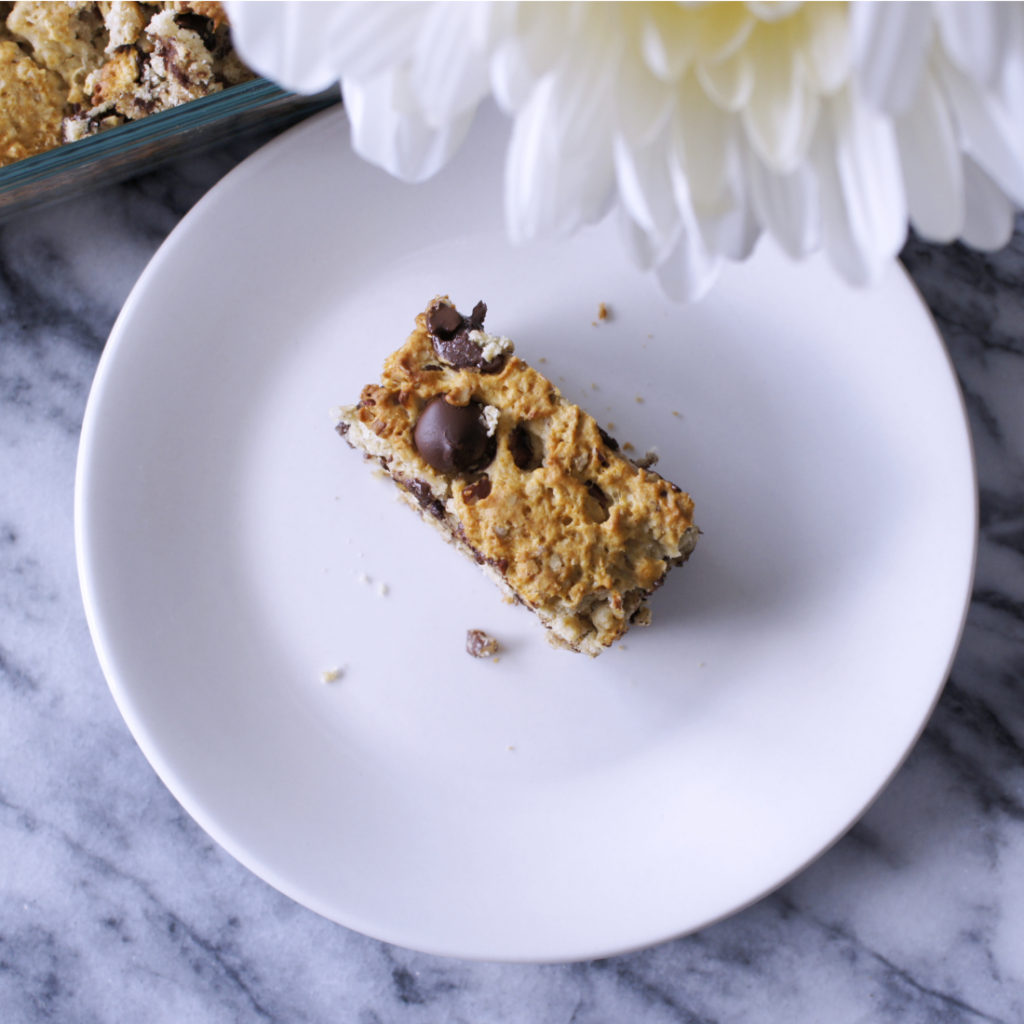 ---