I've sat down to write this post so many times hoping direction would find me. I had anticipated to write a great post with meaning or inspiration. Anything that is not rambling but as it turns out- that's all I have to offer to celebrate Style In Shape's half birthday! .. oh, plus a giveaway! (<– Incentive to keep reading!)
That's right- today I am celebrating this baby blog being 6 months old! The last half a year have been everything, nothing and so much more than I could ever anticipate about running a blog. If you are new to Style in Shape- you can read my first post here!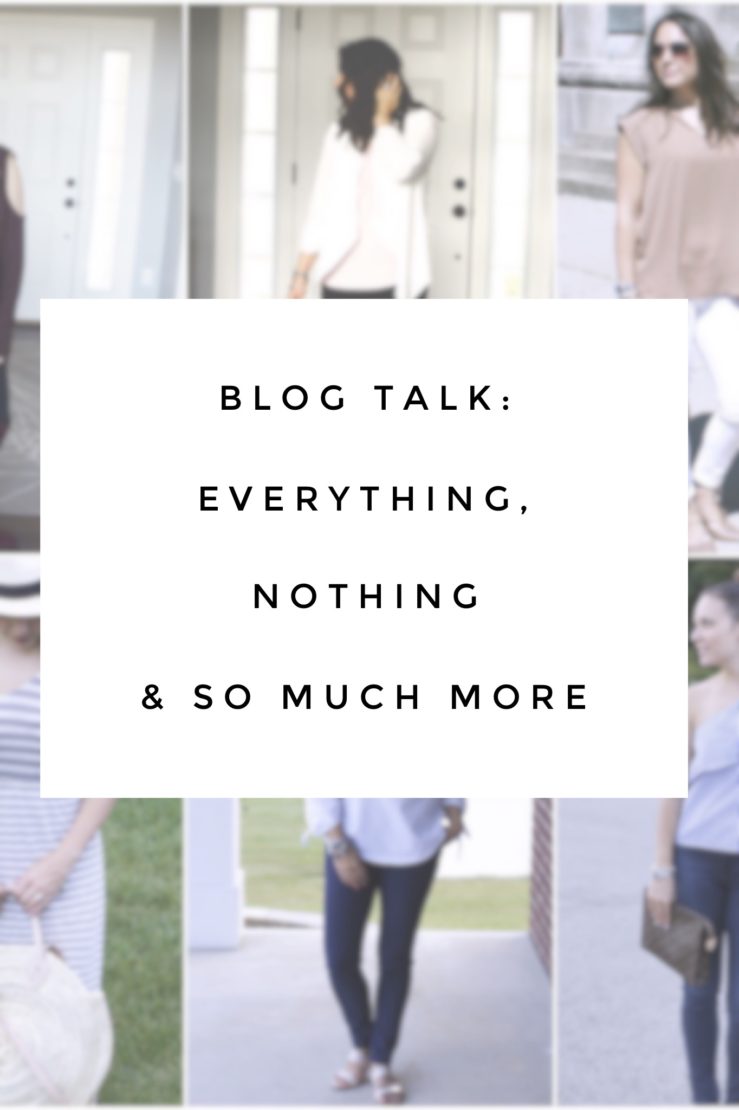 Some analytical facts about Style in Shape to date:
Top 3 posts (based on page views):
Spring into Summer Shape Up Week 1
My Rosacea Fighting Skincare Routine
My Spring Shoe Picks: Target Style
Everything I thought it would be: First and foremost, fun! I hoped this would be a fun outlet to keep who I am outside of being a mother. It is the reason I started this blog. I am having a blast brainstorming post ideas, sharing the online browsing/shopping, and creating/sharing workouts. I truly enjoy creating my content calendar for each month! It's so fun sharing a favorite top I'm obessesing over (like this twist back sweater) or a must have shoe.
Nothing I thought it would be: While it is fun, it is also a lot of hard work. I'm not sure which to word to emphasize, a lot or hard. There is so much more to running a blog than simply snapping some photos or sharing a quick leg routine! There is the basic stuff like finding time to take photos (and if I'm lucky, offsite location shoots), editing photos, and writing the posts. Of course there is back office web techy stuff but then there is also SEO, Instagram Algorithm, proper Hashtag use, newsletter templates and social media interaction/growth/connections to name a few.
There is so much to learn too! I have taken more than one e-course on Instagram, read entrepreneur and blogging books, listen to iPods and even subscribed to some newsletters on blog trends which to be honest is too techy for me to understand.
More than I thought it would be: The number one best part about blogging is by far YOU, my readers, my followers. While the initial reason to start this blog was for me- it's clear that this blog is really for YOU.  A blog without readers is really just an online diary. I know those numbers listed above are small potatoes in the blogverse but those are my numbers and I couldn't be more happy about them! I get super excited about each new follower and every comment left. The connections I'm making with fellow bloggers/influencers and my readers is the biggest reward for running a blog. THANK YOU for reading and connecting with me!!
The next 6 months… I probably should have some goals for the next 6 months. My top goal is to keep pushing out authentic quality content. 55 blog posts seems low for a 6 month time span, I really would love to be consistent with posts every Monday through Friday.
While I have an email subscription to receive my posts directly to your mailbox, I have goals to do a weekend newsletter that I hope to have up and running over the next half a year.
I also hope to break over 1,000 followers on Instagram and grow my other social media platform connections as well.
Is there anything YOU would like to see more of or added at Style in Shape?
Are you still with me? I hope so because it's time for a giveaway! Six months of blogging is a celebration after all!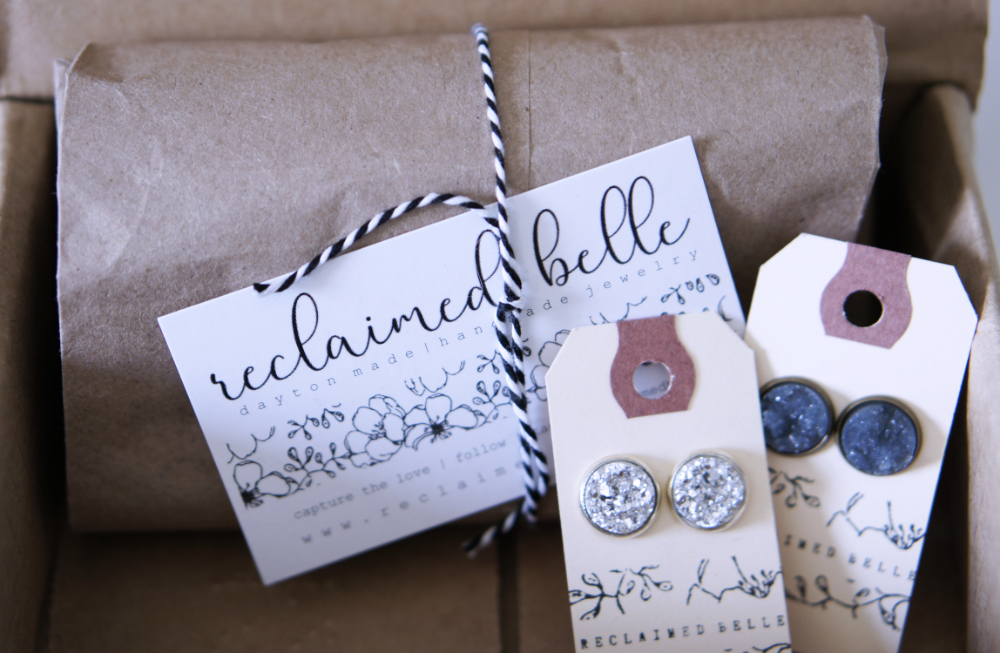 I am giving one lucky reader two pairs of gorgeous druzy studs from Reclaimed Belle. Reclaimed Belle is made locally in Dayton by a #mombossbabe named Dominique. Dominique aims to offer timeless classic pieces that can go from the soccer stands to girls night out and she does just that! I've worn her work to a baseball game, to the office and to date night! I am a big stud kind of gal, so I'm a firm believer in owning a good versatile stunning stud! And you have the chance to win two pairs for FREE!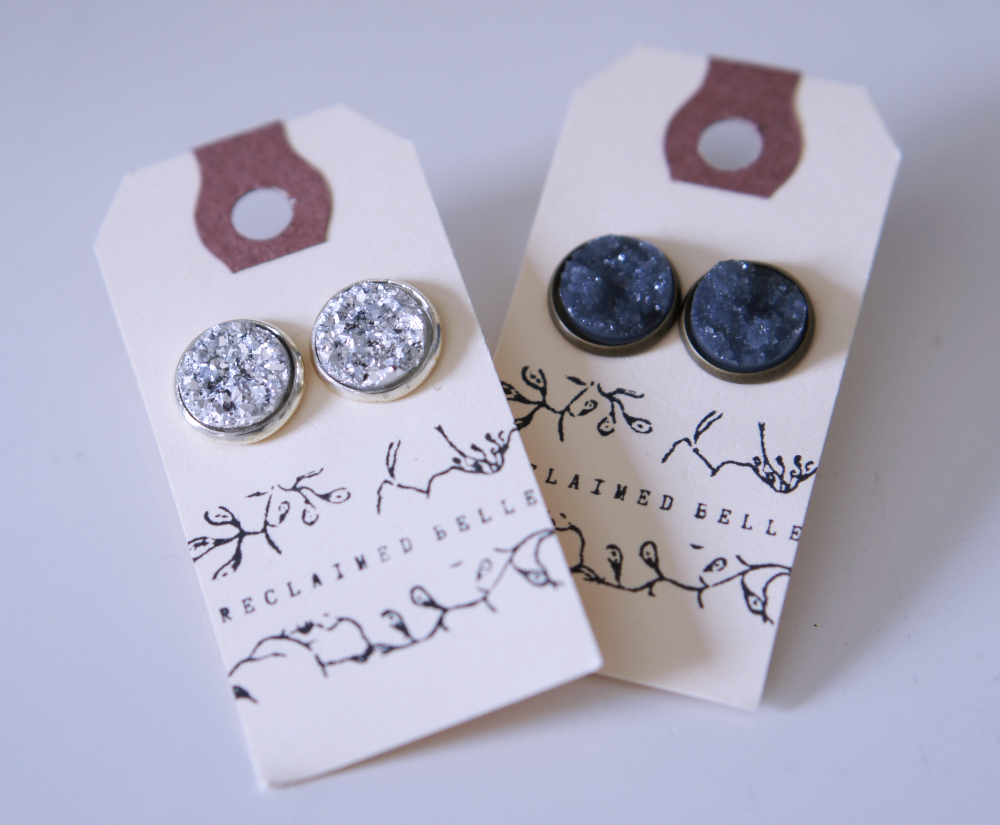 Look later today for my Instagram post and follow the three easy steps to enter! Winner will be chosen at random Friday September 22, 2017 at 4pm EST. Good luck!